Zooming in on Solution to the Affordability of Medicines: Competition as the Road to Affordability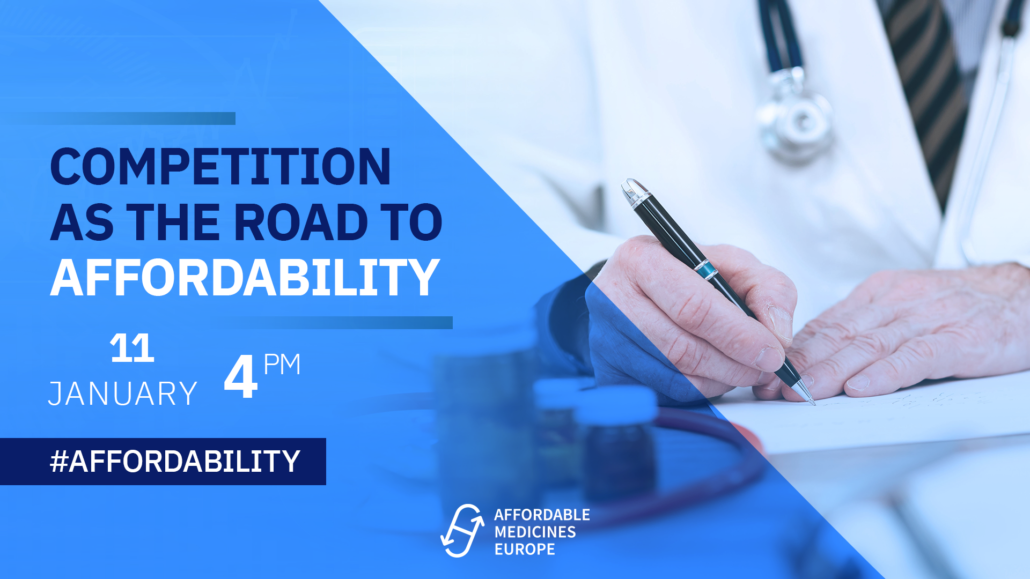 One of the given goals of the upcoming revision of the EU's pharmaceutical legislation is improving patients' access to affordable medicines across the EU. As medicinal products take up an increasing share of health budgets in Member States, this webinar series sought to zoom in on solutions to the affordability problem.
The series consisted of three different webinars, each of which took a deep dive into a specific area that may contribute to increasing affordability by bringing together different speakers from academia, associations, and business organisations.
On January 11, a first event hosted by Affordable Medicines Europe focused on competition in the pharmaceutical sector and entailed the participation of a panel of outstanding experts.
Claudia Desogus, Professor at the Bologna University as well as a Member of the Italian Competition Authority, kicked off the discussion and dove into the impact of parallel trade on the competition in the pharmaceutical industry. After an overview of the key aspects and characteristics of parallel trade, she briefly discussed the main case law related to it, as well as the different price settings and national legislation promoting PI across EU Member States. By showing examples from the German and the Danish markets, Professor Desogus illustrated the competitive force generated by parallel trade and concluded that the entrance into the market of parallel imported products brings both direct and indirect savings to health systems and patients.
Next to present was Søren Brenøe, Senior Economist at Copenhagen Economics. Mr Brenøe gave a brief presentation on his recent studies on savings in Finland and Denmark and the main findings. By looking at parallel imports from an economics perspective, Brenøe' s analysis distinguished between direct and indirect effects of parallel trade.  While the former stems from the difference between the manufacturer's price and the less expensive parallel imported alternative, indirect savings relate to the price reduction of manufacturers' products derived from the competitive pressure exerted by parallel traders. Søren Brenøe' s findings have shown that the total savings from parallel imports of pharmaceuticals in 2018 in Denmark amounted to 82 million Euros, which represented the 3% of the total pharmaceutical expenditure. Likewise, Finnish savings equalled 41 million between 2016-2020.
The final speaker was Ulrich Mohr, Deputy Director of Deutsche Sozialversicherung Brussels, who brought his experience from the payer's perspective. By discussing market regulations mechanisms in Germany, including import quotas, discount contracts and refund prices, Mr. Mohr noted that imported drugs are an important component in keeping medicines affordable, generating savings for the German health systems.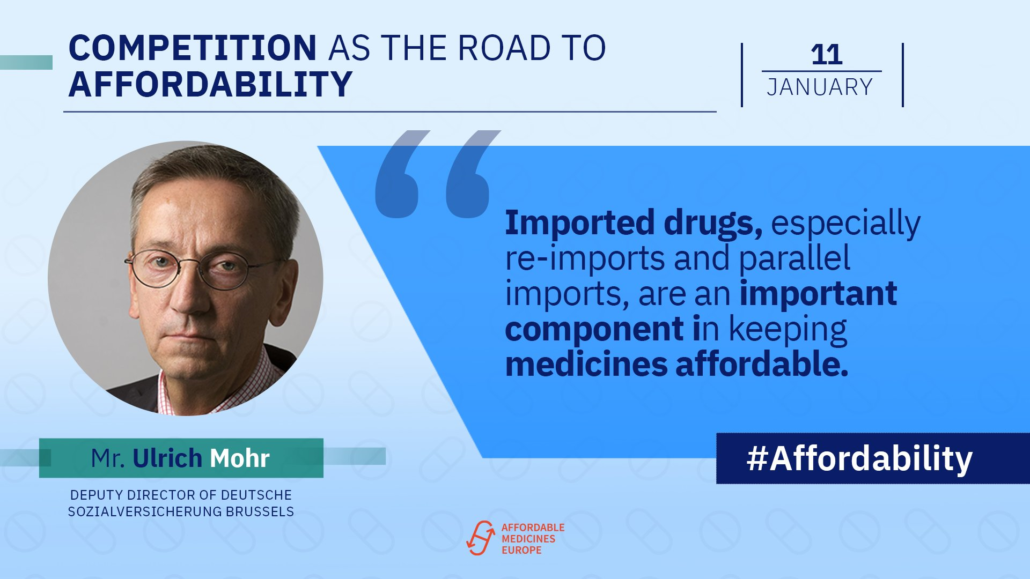 The event ended with a discussion and Q&A session, followed by final remarks and wrap-up delivered by Kasper Ernest, Secretary General of Affordable Medicines Europe.
If you would like to watch the recording of the full event, click here!